Kodaiji-sho-Museum
The Kodai-ji Temple was built by Kita no Mandokoro (Nene), the wife of Toyotomi Hideyoshi - a military commander who unified Japan for the first time - to mourn for her deceased husband. The Kodaiji-sho-Museum has a collection of the temple's treasures which it periodically exhibits to the general public. Everyday items such as furniture and tableware favored by Hideyoshi and Kita no Mandokoro are on display in the exhibition room as well as portraits, documents written by the hand of historically prominent figures, armor, and other items. These exhibits are changed around every season. The museum is particularly well-known for its abundance of gold lacquer works; much loved by many members of Western royalty and nobility. Because it adjoins the temple, many people visit the museum combined with a visit to the temple.
The Collections

The museum's "Kodai-ji makie (lacquerware)", which bears the name of the temple, is well-known. This is said to be the most splendid masterpiece of "Makie" in Japan, and it was extremely well-loved by Toyotomi Hideyoshi who ascended the ranks to become the leading powerful authority in Japan. The technique to make this lacquerware consists of making a rough sketch with lacquer, and then sprinkling on gold and silver powder to draw a picture. The contrast of the gold with the black cloth is magnificent. This splendid and elegant depiction is said to reflect the tastes of military commanders at that time. Other exhibits include portraits of Toyotomi Hideyoshi and his wife, Nene; everyday items they used during their lifetime; and a wealth of materials concerning related parties. This Museum is often visited by people with a love of arts as well as an interest in Japanese history.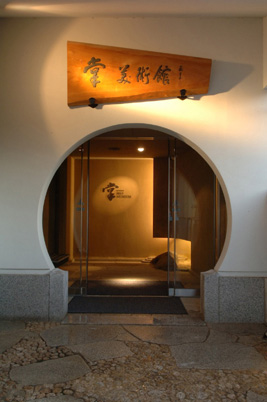 Notes

The Kodai-ji Temple is opposite and the Entoku-in Temple, where Nene spent the rest of her days, is next door. A visit to both is highly recommended. Both of the Temples' buildings and gardens which date back over 400 years remain, and the gardens in particular are spectacular. The gardens are lit up during the spring cherry blossom and the fall foliage seasons, attracting lots of tourists. At the top of the hill is the Ryozen Gokoku-jinja Shrine which deifies people who participated in Japan's modern revolution, the Meiji Restoration, from the end of the Edo period to the Meiji period (around the end of 19th century).
| | |
| --- | --- |
| Language | Japanese (Website) |
| Museum Shop | No |
| Cafes & Restaurants | No |
Address
2F of Kyo Rakuichi'Nene', 530 Kodaiji Shimogawara-cho Higashiyama-ku Kyoto 605-0825 JAPAN
Contact
075-561-1414
Opening Hours

Daily:9:30 a.m.-6:00 p.m.

* Special Night:9:30 a.m.-22:00 p.m.
(Spring:mid-March to early May/Summer:August 1st to 18th/Autumn:late October to early December)

Closed
Closed due to the replacement of exhibits
Admission Fees

The Collections Hall
Adult:300yen(Sho Museum only)
Discount for 2 places (Kodai-ji temple, Kodai-ji sho museum):600yen
Discount for 3 places (Kodai-ji temple, Kodai-ji sho museum and Entokuin temple):900yen

Transportation

Kyoto City Bus:Get off at "Higashiyama Yasui" bus stop #206(From Kyoto Station) (5 minutes' walk to the east)

Kyoto City Bus:Get off at "Higashiyama Yasui" bus stop #207(From Hankyu Kawaramachi Station/Keihan Gion-Shijo Station) (5 minutes' walk to the east)

Website
http://www.kodaiji.com/index.html
(Kodaiji-temple's Website)